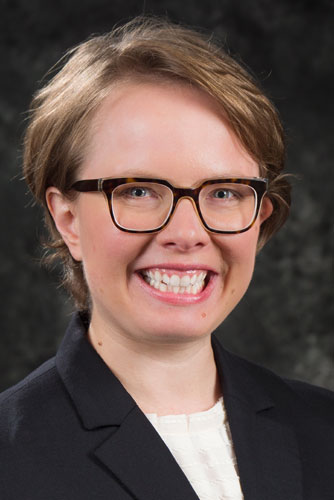 Anna Czarples is an advocate for everyday people who have been hurt through the wrongdoing of others.  She finds great personal satisfaction in helping her fellow citizens petition the courts for justice.  She believes the United States system of law is the greatest in the world, and feels honored to hold the courthouse door open for all.
Attorney Czarples has had great success taking cases to trial in front of our local jurors.  Rural jurors bring different sensibilities to the jury box, and Attorney Czarples has obtained multiple six-figure verdicts in this area.
Attorney Czarples represents people wrongfully injured in both New York and Pennsylvania.  She concentrates her practice on personal injury, with a focus on medical malpractice, car crashes, and fall injury cases.
In her free time, Ms. Czarples enjoys spending time with her family and watching sports.  She is a big fan of the Buffalo Bills, Buffalo Sabres, US Women's National Soccer Team, and the Buffalo Beauts.
Education
University of Rochester, 2005, B.A., cum laude with a double major in Political Science and Spanish.
Uppsala Universitet (Sweden), 2008, comparative law study abroad.
University of Minnesota, 2008, J.D. magna cum laude.
Admissions
State of New York
Commonwealth of Pennsylvania
US District Court, Western District of New York
US District Court, Northern District of New York
US District Court, Middle District of Pennsylvania
Awards
Irene Grace Bunde Award, University of Rochester (most persuasive female speaker)
Top 40 Under 40, National Trial Lawyers
Top 25 Medical Malpractice Attorney, National Trial Lawyers
Top 25 Female Trial Attorney, National Trial Lawyers
Top 10 Under 40 Personal Injury Attorney, National Academy of Personal Injury Attorneys
Rising Stars, Honoree, Super Lawyers
New York State Academy of Trial Lawyers, Board of Directors
Testimonials
Our attorneys may have to work with your doctors to help you get the best result for your case.  One local surgeon said this (unsolicited) about Attorney Czarples,
"You know, I have to deal with lawyers and insurance claims all the time, and they are often very difficult.  All my dealings with Ms. Czarples have been a real pleasure.  She was very professional, very precise, and careful.  She never left anything on the table."  ~ Dr. G.