Through litigation, the trial lawyers at Welch Donlon & Czarples act as watchdogs for our community bringing attention and reform to unsafe vehicles, dangerous products, and incompetent medical or professional practices. We hold accountable those who injure others by bringing safety concerns and issues to light and by protecting the wider community from similar losses due to these same dangers.
Welch, Donlon & Czarples is also committed to helping people outside of the courtroom. Our injury attorneys and staff are dedicated to improving our communities. Below are a few examples of how we give back to and serve our community.
Capabilities: Capabilities assists people with disabilities to reach their occupational goals by creating opportunities and environments that empower people with disabilities to obtain and keep jobs of their choice through personalized employment programs and business solutions for those in Chemung, Steuben, Schuyler & Tioga Counties. Attorney Collins volunteers her time to this great organization through her service on the Board of Directors.
American Red Cross: The Red Cross is very active locally and Welch Donlon & Czarples has teamed with this organization to raise money for disaster relief in our community and elsewhere. Our office sponsors the "Ride for the Red" annual motorcycle ride. Attorney Czarples and Attorney Donlon have volunteered their time and services to this great organization. Attorney Czarples serves on the Red Cross recruitment committee, and Attorney Donlon has volunteered answering phones for Red Cross telethon events.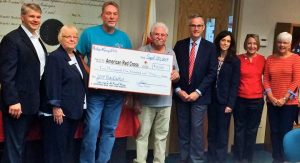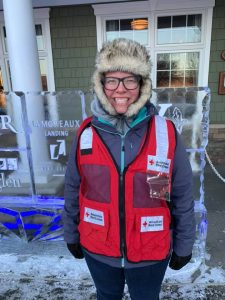 Wreaths Across America: Wreaths Across America coordinates wreath laying ceremonies at more than 1,400 veterans' burial locations across the United States, at sea and abroad. Welch Donlon & Czarples is a proud supporter of this cause.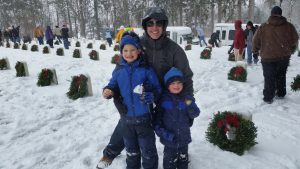 Paint the Night Pink: Welch, Donlon & Czarples is committed to helping in the fight against cancer in our community. Our firm is a past sponsor for this fundraiser which is an event to raise money for the Patient Services Fund of the Arnot Health Falck Cancer Center in Elmira.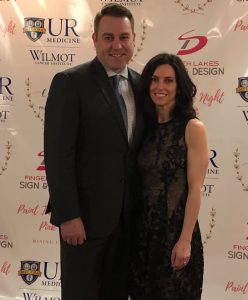 Fund for Women of the Southern Tier, Inc.: Fund for Women of the Southern Tier, Inc. seeks to help girls and women achieve self-sufficiency and realize life goals by providing grants to girls and women living in Chemung, Schuyler, Steuben and Yates counties every year. Attorney Collins volunteers her time to this great organization through her service on the Volunteer Committee.
Craig Dog Park: At Welch Donlon & Czarples we love our pets! That is why we are a founding sponsor helping to create the dog park at Craig Park in Painted Post. The dog park is in Craig Park just off Route 415. The park consists of an open-air fenced in area for both large and small dogs, as well as other dog friendly amenities.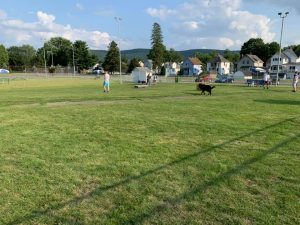 Ancient Order of Hibernians: Welch Donlon & Czarples supports bringing our community together for charitable causes. That is why we have sponsored the Ancient Order of Hibernians annual Irish Festival held in Hornell, NY. The event is held over two days and includes food, drink, art, and of course – live Irish music. The proceeds from this event go to support the Hornell YMCA, St. Ann's Academy, Our Lady of the Valley Parish, and the Sunday Meals Program.
Corning Children's Center: The Corning Children's Center strives to set the standard in early care and education by inspiring learners, leaders and dreamers of the future. Attorney Donlon volunteers his time and services to this great organization in our community. He is a member on the Board of Directors and serves as chairmen for the Middle States Accreditation Committee.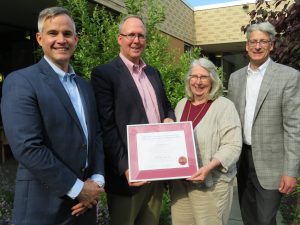 Smoke in the Valley: Our firm is proud to be a sponsor of this annual event which features a BBQ competition raising money for the Canisteo and Maple City Police Clubs. Pictured below is Attorney Donlon's son Owen with Elvis.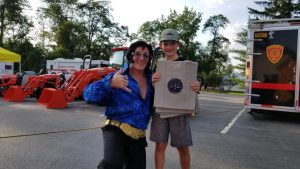 CareFirst: Formerly known as Southern Tier Hospice, CareFirst provides, among other things, end of life care and grief support. Attorney Czarples currently sits on the Ethics Committee, and Attorney Welch was heavily involved in said organization for many years prior to his retirement.
Corning Painted Post Area School District: Welch Donlon & Czarples is a proud sponsor of the Corning High School Year Book.
Steuben County Bar Association: Each year the Steuben County Bar Association conducts a Christmas toy drive to make sure children in our community have something to unwrap on Christmas morning. Welch Donlon & Czarples takes great joy in participating in this wonderful holiday tradition each year.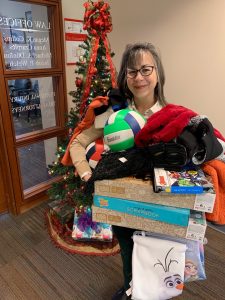 Watson Homestead Conference and Retreat Center, Inc.: Watson Homestead is the childhood homestead of Thomas J. Watson, Sr., the founder of IBM, and provides lodging, facilities, and programs for those seeking educational enrichment, relaxation, and spiritual renewal. Attorney Collins volunteers her time and services to this great organization through her service on the Board of Directors.
University of Rochester: As a proud alumna of U of R, Attorney Czarples has volunteered her time to conduct local admissions interviews of potential undergraduate students. Meliora!
Seneca Lake Pure Waters Association: Attorney Welch currently sits on the Board as President, furthering the organization's efforts to preserve, protect, and promote Seneca Lake Water Quality.