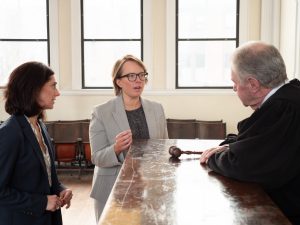 Sometimes during a birth of a child, mistakes can be made by negligent obstetricians that lead to a lack of oxygen to the newborn. That newborn could then have lifelong injuries including cerebral palsy.
Erb's palsy in a newborn is an indication that negligence may have occurred during the birthing process. Erb's palsy occurs when an infant's shoulder becomes trapped behind the mother's pelvic bone during delivery. If the attending doctor does not address the brachial plexus injury quickly, the damage to this nerve area can lead to paralysis of the newborn's arm. The injury sometimes is aggravated by forcible extraction.
There are also other birth injuries that may occur due to a doctor's failure to act.  Delays in c-sections, failure to properly monitor the baby, or other negligence can leave your child with life-long injuries that they otherwise wouldn't have had.
Consultations are completely free, and there is no legal fee unless we win your claim.  Call 607-936-8057 or email inbox@wdcinjurylaw.com to schedule an appointment.